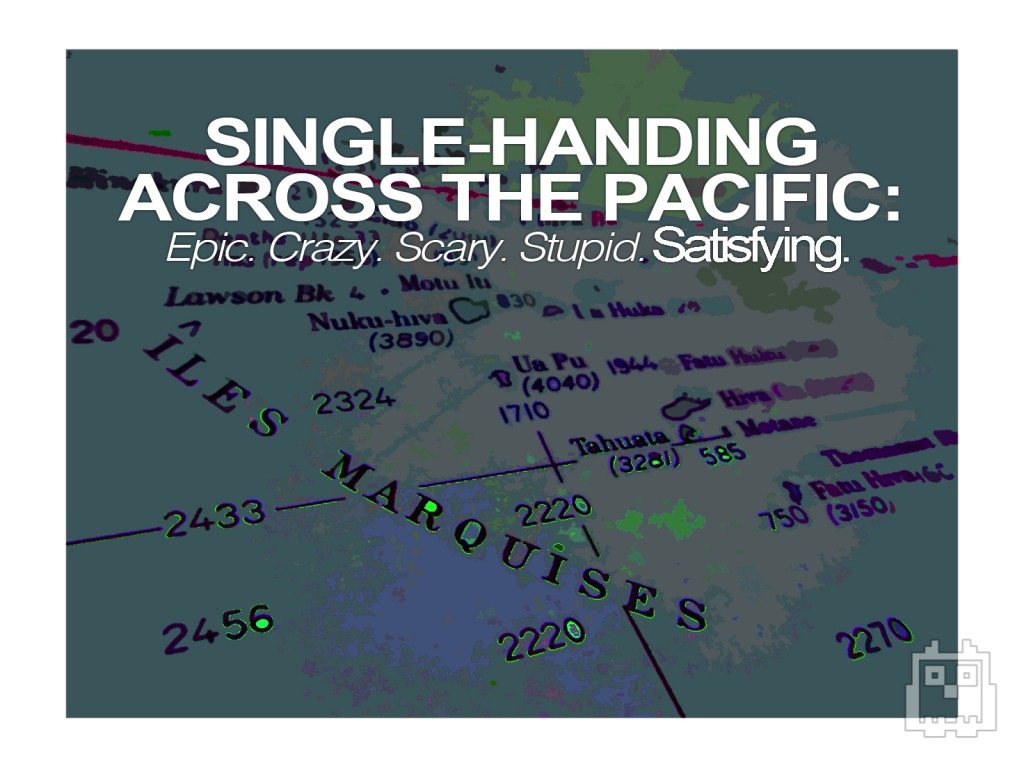 For as long as I could think about sailing, the idea of cruising across the Pacific Ocean has been a lingering thought in my subconscious. There are few places as isolated and that hold such a strong magnetism as the Pacific Islands for sailors. This thread of thought has spooled itself from a vague pipe dream into a legitimate opportunity. I have just enough money to cross the Pacific, the necessary paperwork to clear immigration, the proper boat and knowledge to sail her, and I am conveniently placed at the tail end of the season to cross. I can't ignore the freedom I have to go, and I feel 100% obligated to take advantage of my circumstance. I feel so utterly lucky to have such a brilliant opportunity in front of me and know I might never get this opportunity again. My emotions roller coaster from being extremely excited to totally terrified. I have been brushing up on the heavy-weather tactics I might have to perform, and they make the bad weather I have experienced so far look like child's play. I push those thoughts aside quickly. Heavy weather sailing accounts for a very small percentage of cruising time. It just makes sense to continue the positive cruising momentum I have created for myself and tackle the next level of sailing. An open ocean passage.
            Panache has made this trip before back in 1979 and cruised all the way to Australia. She has seen many places and met many people. The fanfare that follows Panache is incredible. On numerous occasions I have been contacted by people who are delighted to see her back on the water. When I bought the boat from Tony Barra, the one and only previous owner, I spent hours talking to him and hearing his stories aboard Panache. Almost all of those stories took place in the South Pacific.
            I remember taking time off work to train down to Ventura, California to look at Panache. I seemed to catch Tony by surprise. He gladly offered to show me the boat, but I could tell he was apprehensive. He had been passively trying to sell her for seven years, but I believe he was just looking for the right person to sell her to. I had dozens of questions for Tony, but in the beginning he was firing more questions at me. Almost like a pre-approval for purchase. I must have answered correctly, because he provided honest answers to my questions and started actively selling the boat. What works? What doesn't? What would you add? And so on... After a simple day sail, the stories of the South Pacific followed. I listened with a big smile, my mouth half open. I wasn't listening to his stories, I was there. Nearing the conclusion of my visit, he looked around Panache with a smile, appearing on the verge of tears and told me the boat would take good care of me, that he wished he could go cruising again in the South Pacific.
            I can't fully explain my drive to sail into the middle of the Pacific. It's a mix of things; a rite of passage, an unequivocal experience that needs no explanation, a true adventure. I guess that's the biggest reason. Adventure. I will be leaving a continent for fuck sake. Tony knew I wanted to head to the South Pacific but was thrilled to sell Panache to someone who would give her a second life, regardless of where I took her. When I broke the news to Tony that I was going to cross, he was very excited for me. It was what Panache was meant to do. It's like I am taking Panache home again. Despite my desire to go, the one true prerequisite in heading to the South Pacific is having enough money. Sad but true. Tony made this plainly apparent.  
          I hate talking about money, but it's impossible to ignore such a crucial part of travel. Mexico and El Salvador have been extremely inexpensive and make the task of following a budget essentially a waste of time. Traveling to the South Pacific on a budget is generally considered contradictory because it's so expensive. NO BUDGET IS BIG ENOUGH! Just kidding, but it's still crazy expensive. Not only is provisioning expensive, but preparing for the trip, having a capable boat and getting the proper paperwork are also costly. French Polynesia requires sailors to post a bond equal to the reparation cost for returning to your home country. In my case, that bond is 2000ish dollars. French Polynesia doesn't want to get stuck with a bunch of bearded, smelly internet-hungry sailors. I would be curious to see the average mile per dollar cost for a passage to the South Pacific. I'm sure it would drop my jaw.
            Once in the South Pacific the financial rape doesn't stop. Being so remote, nearly everything is imported, and imported stuff bears crazy high prices. For this reason, my provisioning includes food not only for the crossing but through the island chains. This should help alleviate expenses, but my meals will be anything but spectacular. I have enough rice and beans to fart all the way to Australia and the vitamins to make it nutritious. Essentially, I will be a walking carbohydrate by the time I land in New Zealand/Australia/Hawaii. I have yet to decide the endgame of this passage, but I have committed to the first step. The hardest step.  
          It's a little hard to look so far out in my journey when the biggest step of all is only days away. All my preparation has blinded my ability to plan beyond the first month or so. Sure, I have worked out contingency plans through the South Pacific, but I have no idea which one I will execute. It's kind of like a real life Choose Your Own Adventure; turn to page 38 if you want to head to Fiji, or turn to page 68 if you want to stay in Samoa for another week. Either way, I will have plenty of time to figure that out during the crossing to the Marquesas, a trip that spans over 3300 nautical miles (as the crow flies) and will likely take 35 days, assuming my average speed is 4 knots. The wind should be consistent, but the Intertropical Convergence Zone (also known as the ITCZ or the doldrums) could balloon my expected arrival well past the 35-day mark. This is ok. Time is only dangerous if you have no way to spend it. That being said, I am immensely afraid of myself. My thoughts. Sailing solo down the Mexican coast provided trying times mentally. The isolation produced a prying introspection that forced me to wrestle with myself – and these previous passages were only three days long. To combat idle hands, I have created a daily schedule for my body and mind to be active. A routine. I even bought a Kindle, a device that has made reading cool again.
            Essentially, I am creating a groove to follow during the crossing. It usually takes me two days to fall into that groove. Without the groove, the simple rocking motion of the boat can be arduous, even painful. However, on that third day, that magical third day, my body acclimates. I have prepared several workouts to nurse my body. Reading my Kindle, keeping meticulous logs and journals and baking fresh bread in my new pressure cooker will nurse my mind. I have provided enough activity, mental and physical, to make the passage less daunting. That is the Pacific crossing in a nutshell; a mental endurance race.  
          As I write this, I am on a bus back to the Bahia del Sol marina to finish preparing Panache. It's already May, and the season is closing for crossing the Pacific. I originally wanted to leave April 30th, but like most places I have spent extended periods of time, El Salvador has provided many good memories and a creeping feeling that I want to stay. I think every cruiser fights with this yearning for home. It's a yearning for the familiar. My finances create an urgency to keep moving. Many other boats don't have this urgency because they have the money to wait for next season. I have neither time nor money to wait. If I want to jump, I have to do it NOW. I sometimes feel rushed, but looking back at my preparation, my checklist, I am ready to leave. I guess I am just sad to say goodbye to the people I have become close to. Bella Star, Knee Deep, these boats are my family. They have become the familiar, and now I have to say goodbye. It's hard.  
          It seems like everyone is lobbying for me to go south to Costa Rica and Panama. I am not interested. I would love to travel there, but deep down I know these countries are easily accessible. Nick from Saltbreaker put it best when weighing the options, "You should probably cross. Central America is great and all, but it's easy to get [there] by plane and still see just about everything. Try backpacking around the Tuamotus... not gonna happen." It's a huge commitment with lots of glory. It's one of the biggest crowning achievements a sailor can conquer. Nick was right; Central and South America are extremely accessible. Why use all my current limited resources to go somewhere I can go at any point in my life? The sheer distance I will have to travel makes a Pacific crossing that much more appealing, and it ultimately made my decision to cross that much easier.  
          Being a single-hander adds a little more complexity to such a long trip, but it also adds a considerable amount of glory. My mother is taking my plans quite well. I have a life raft, I have an EPIRB (emergency position-indicating radio beacon), I have a suitable lifejacket and harness, enough food and water, and the will and perseverance to get there. I have explained this to her, and she mustered all the support a worried mother can:  
I don't know what is driving you on this adventure, but I know you will be fine...I feel it. It probably will not be easy however. Keep the dingy and that beacon ready in case you need it. The storms are what worries me. The 6+ foot swells... Remember that the Pacific Ocean is the color of Krishna, one of the visible manifestations of God in Hindu religion... so you will be in his arms. Sorry, I'm so sappy.
Love you mom. Life raft and EPIRB aside, if I fall off Panache, I will literally need a miracle to save my life – this is my BIGGEST fear. 90% of the time Panache is being sailed with self-steering, and if I fall off, I will have the terror of watching her sail off into the distance while I float in the water indefinitely. I have jacklines and a harness to strap into, but I'm sure some extenuating circumstance exists that can rip me off Panache and into the never-ending sea. I hope I don't find it, but the thought gives me chills. It literally haunts me. While preparing Panache I had the realization that my life ring and man overboard pole were worthless. If I fall in, there will be nobody there to throw them to me. I will be the definition of alone while in route to the Marquesas.    
          Not to get all dark and stormy, but these thoughts can't be ignored. They should never be ignored. Plan for the worst, and you probably will never see it. I talked to Tony Barra recently to grill him with all my anxieties about crossing. He was happy to hear from me and answered all my questions. "Let me give you some advice," Tony started, "An old sailor's tradition, never leave on a Friday. It's bad luck. In the old days boats would wait at a river's mouth until Saturday morning and then leave. I don't know if its true or not, but every time I left on a Friday, the trip sucked!" We laughed about this, and I promised to not leave on a Friday. I realized that all my anxiety was a waste of energy, that Tony qualified me ready because out of all my questions, the biggest piece of advice he could give me was to adhere to maritime superstitions. Thanks to everyone who helped me prepare for this trip, and look out for my arrival post 35ish days from now.
  ZSOL