Confirmation that everything on the boat was still damp came after waking up and placing my feet on the moist cabin sole. Panache was also still illegally docked at the our former marina. Since Panache was already packed and ready to go, I turned on the engine and headed for the Harbor exit one last time.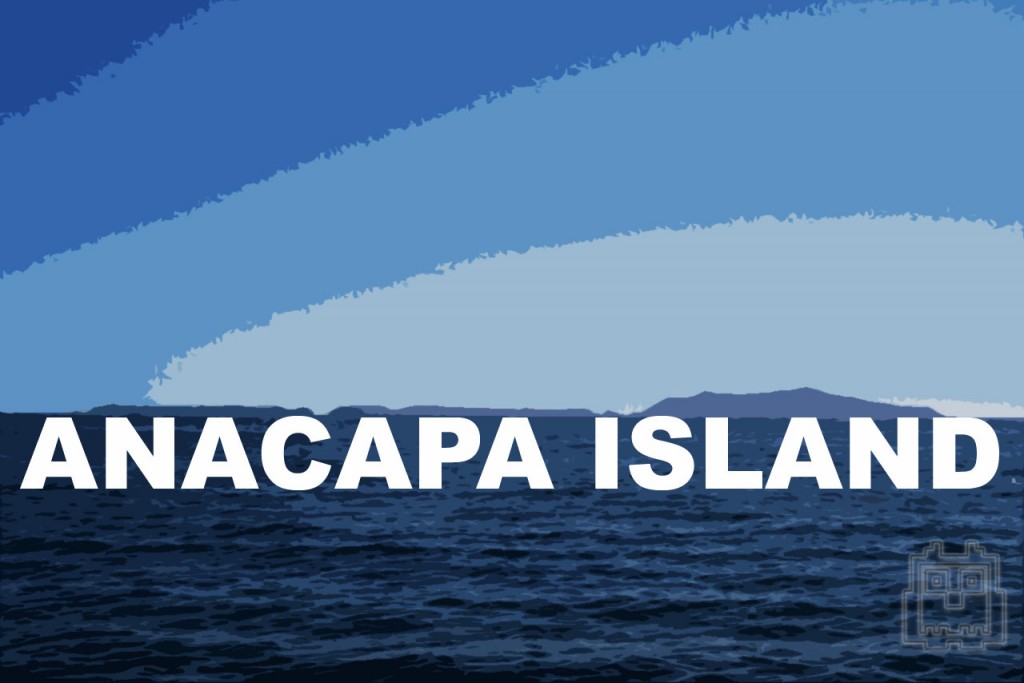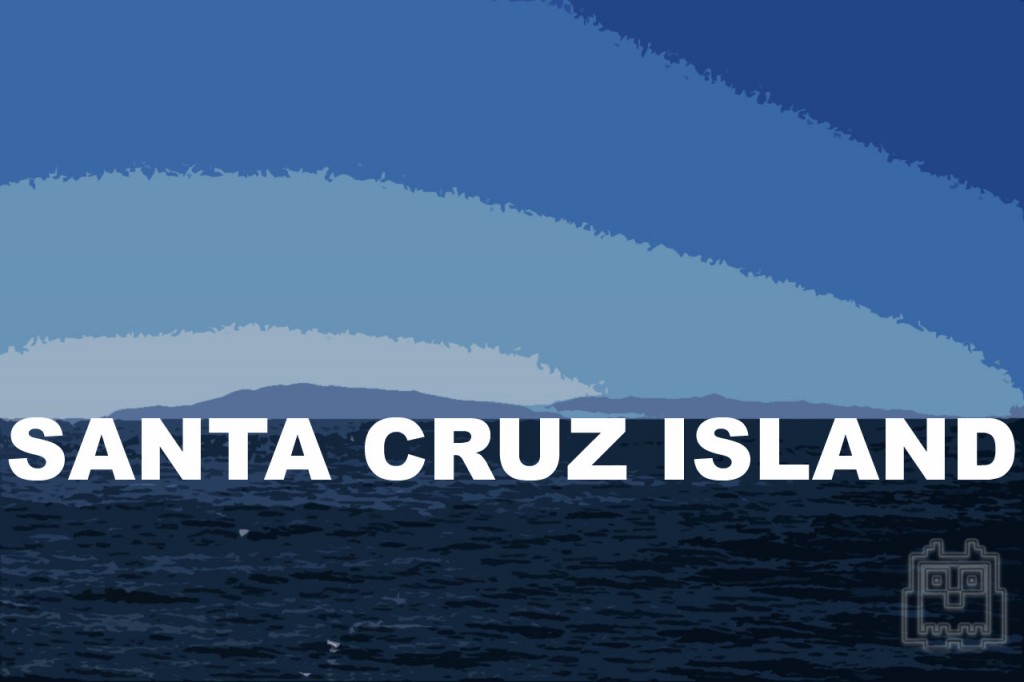 When Eric and I got out of the harbor, it was like night and day; no more huge swells, no more wind (literally), and no more waves crashing over the deck. We had to motor a good majority of the way, but it was a welcome respite. We had the full main and the huge 160% jib up and were leisurely motor-sailing to
Santa Cruz Island
. A pod of
common dolphins
even decided to swim with Panache for a brief moment before breaking off to destroy a school of fish. Between today and yesterday, we had experienced the two extremes of sailing: intense storm force gales that force you to grip the tiller until your fingers are purple, and light winds that allow you to let the boat steer itself.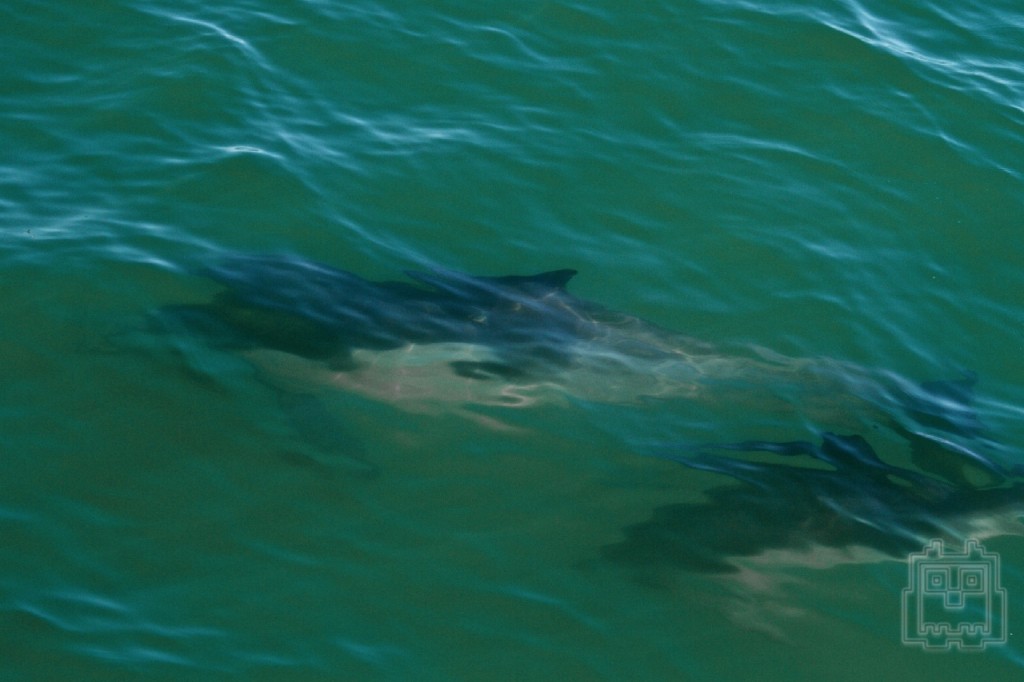 By the time we reached the oil islands, the wind was a steady 12 knots, and Panache started to make really good time. I cut the engine and the huge jib started pull us forward at 6 knots. The wind was just right, and you could still hear the water parting in the bow of the boat. We arrived at Smugglers Cove Anchorage just before sunset, and had just enough time to revel in our successful unencumbered journey that was impossible the day before. It felt good. No more marinas for the next 160 something miles down to San Diego.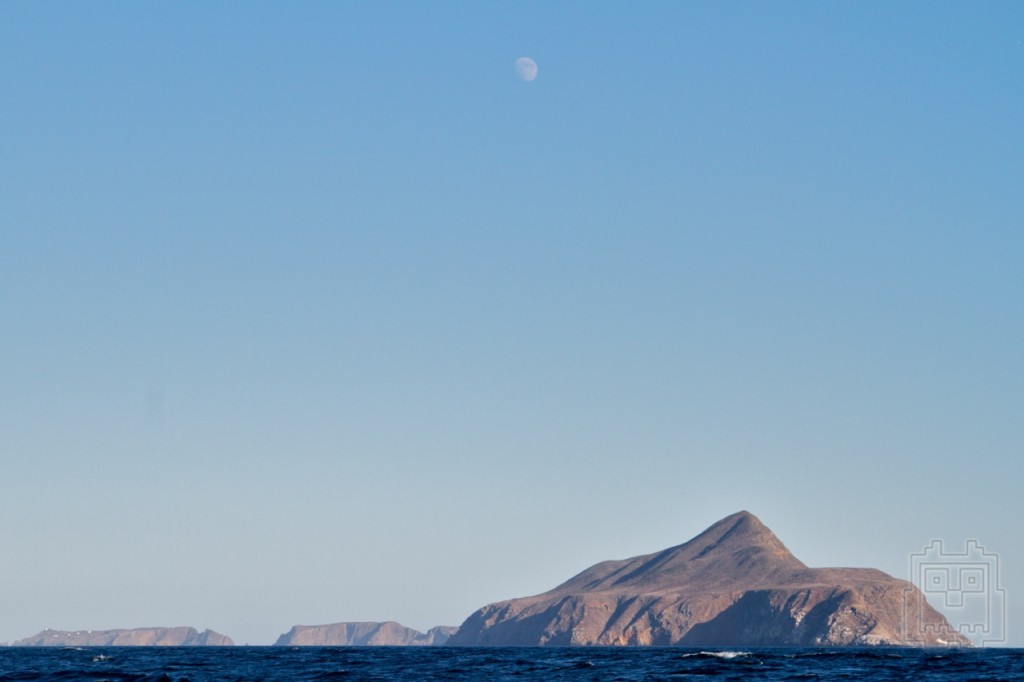 In the morning, the wind was still nonexistent. We motored along the southern side of Santa Cruz, dodging the crab pots spread across the coastline like land mines. We reached Coches Prietos Anchorage, a small turquoise nook carved out of the steep orange coastline, and decided to anchor for the rest of the day.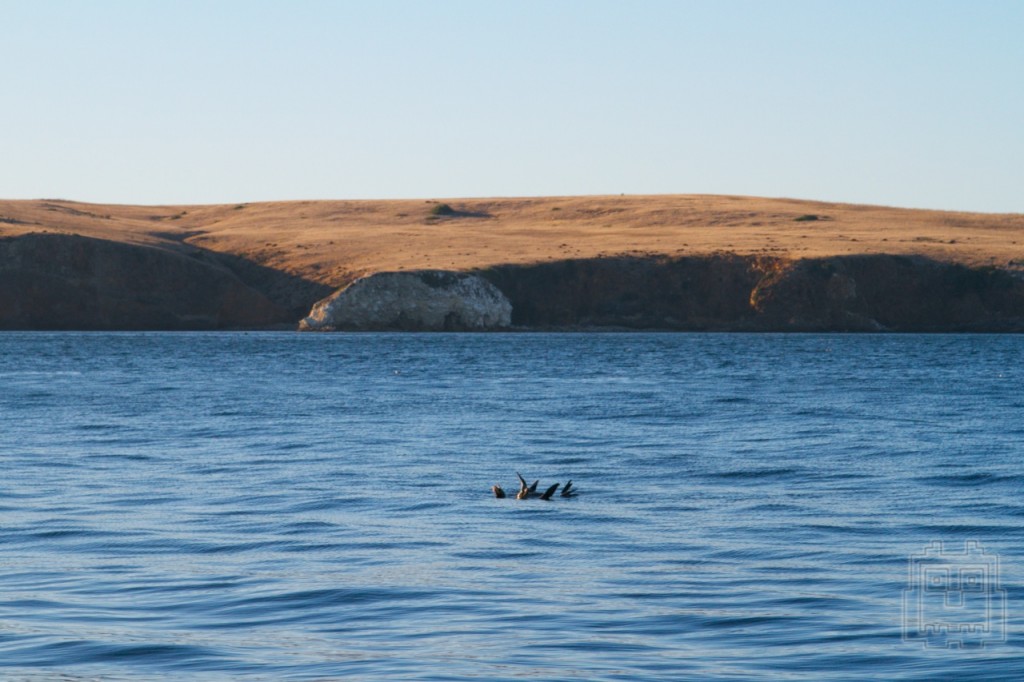 A constant line of
brown pelicans
diving for bait fish was a good source of entertainment. These birds, having a wingspan of nearly 7 feet, fly 30 feet above the water, and when they spot a delicious fish below, they tuck there wings and dive-bomb right into the water. I watched this for at least an hour, and every dive was just as exciting as the last.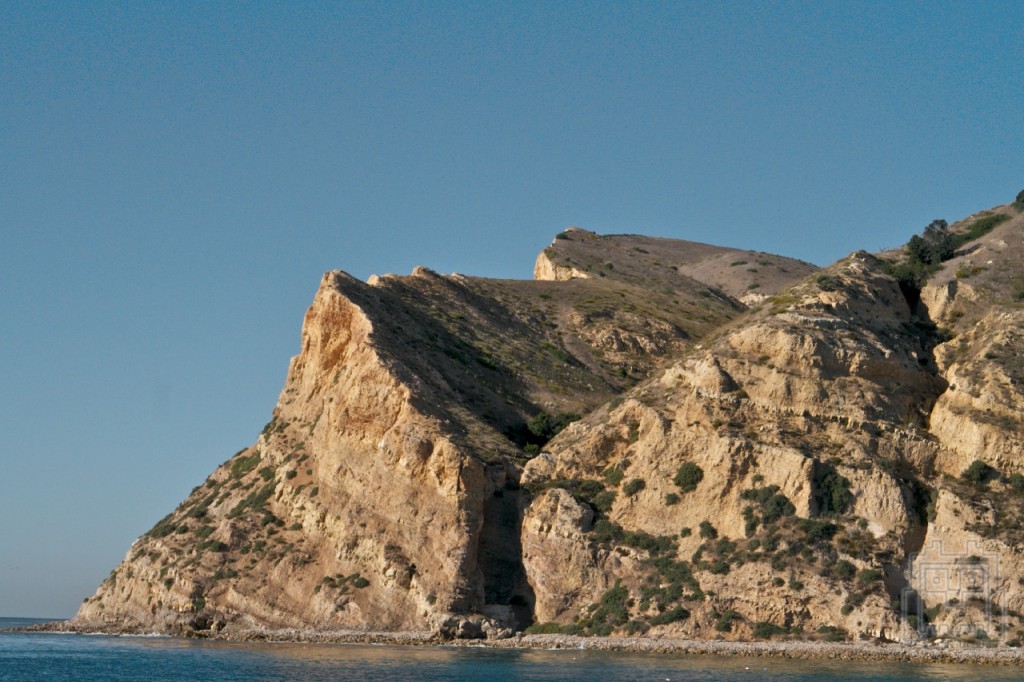 I wanted to go ashore, but Santa Cruz Island is effectively a natural preserve, and the California government puts strict limitations for human contact. Only certain areas are you alowed to go ashore. No pets ashore at all. No disturbing wildlife. But all these rules wouldn't stop us from snorkeling.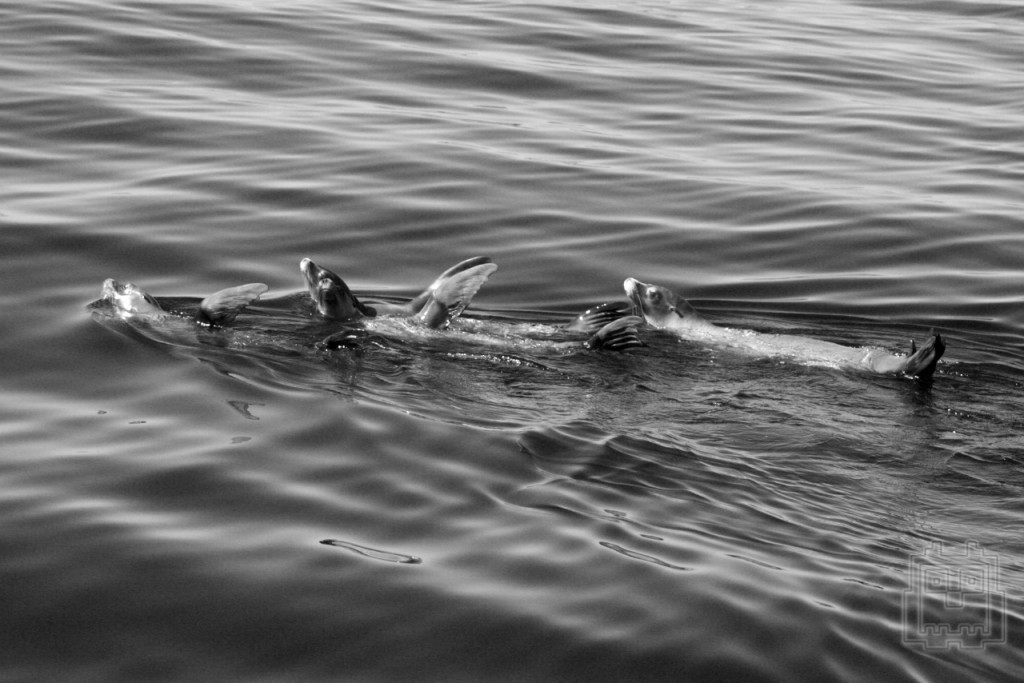 Once in the water, visibility wasn't all that great. Maybe 7 feet at best. I never feel that comfortable in water I can't see in. Its like being blind in a room full of strangers. Eric and I saw a group of people on shore, so we decided to join them. Power in numbers.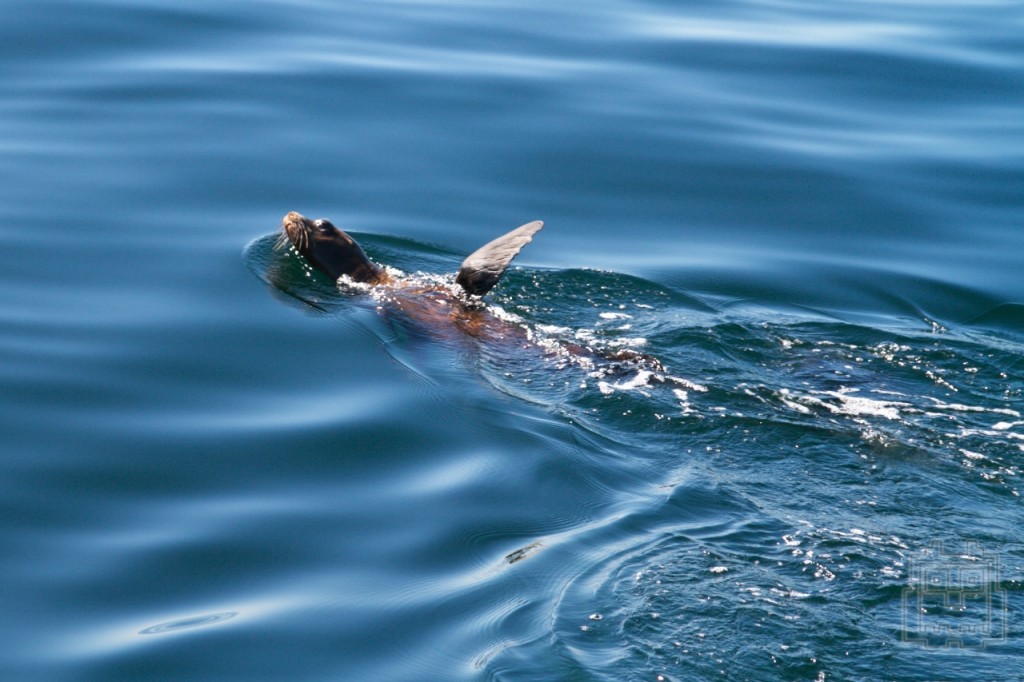 We explored the tide pools and found many interesting characters. Lots of
sea urchins
, starfish,
sea anemones
, and the prize find of the day, a cluster of
black abalone
. Black abalone, a rather large mollusk, are endangered and unfortunately probably going to be extinct in the next 30 years. They are easily unnoticed, but when you know what to look for, they are fun to find. We spotted nearly 15 different abalone, all within a 30 foot walk. Harvesting abalone anywhere in California is prohibited and fines are steep. The first abalone will coast you $500 and each additional one will coast another $250. I hear they are delicious, but thats one expensive meal. It's good to know Santa Cruz island's strict no visitors policy was helping a struggling species like the black abalone.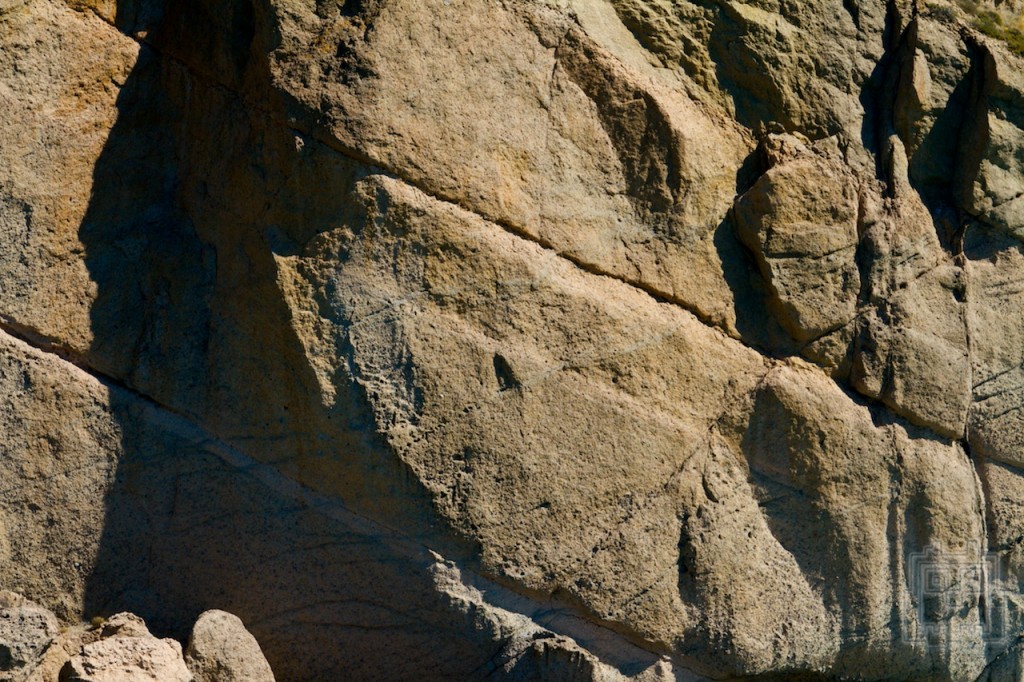 By this time, light was starting to fade from the sky, and we were ready to make the 65 mile overnight passage down to
Catalina Island
. But not before soaking up the last bit of sunshine during an early dinner of rice and beans. Abalone would have been nice though.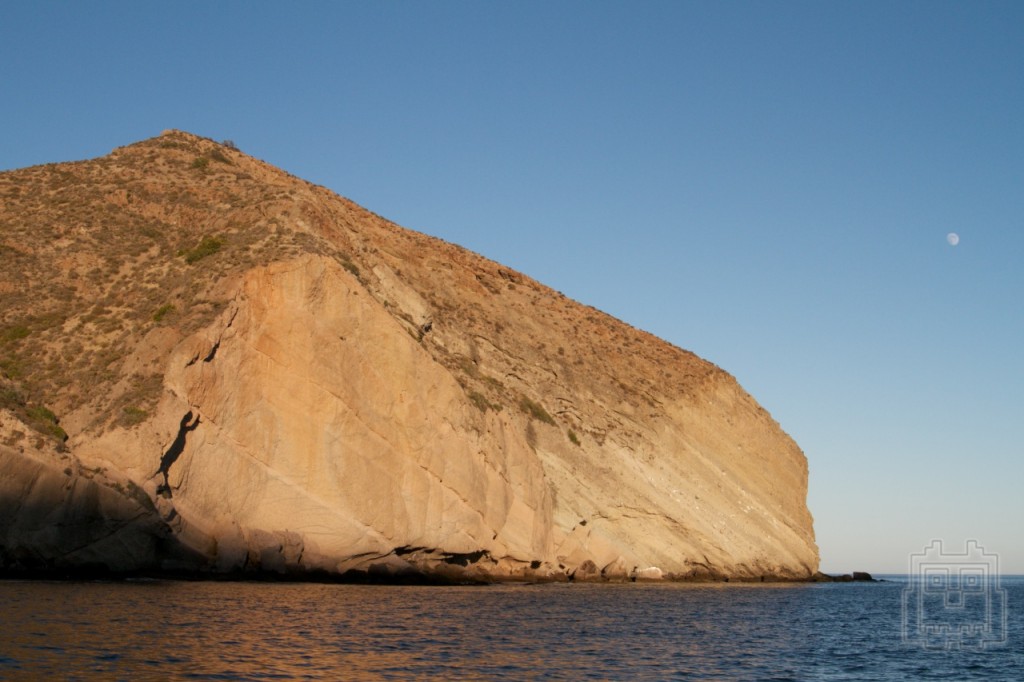 Oh, the simple life.