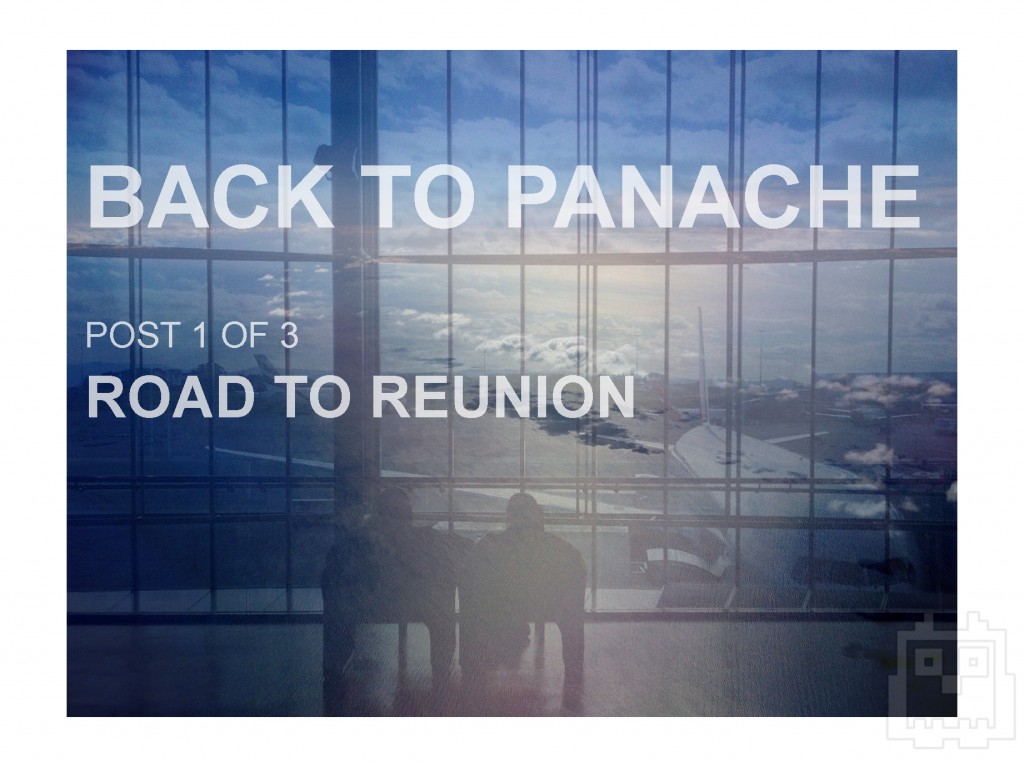 I would love to write a blog post for my time in New Zealand, but realistically it's just not possible. The destination is too beautiful, I have too many good stories and, most importantly, I have too little time at the moment to give the country justice in the space I have here for words and images. Just trust me when I say New Zealand is a great place. This series of posts is dedicated to my winding and eventual trip back to Panache, and ironically it starts in New Zealand.
After working a wine vintage in NZ, I decided to stick around the country for a bit longer and work the ski season at a resort down in Canterbury. My working holiday visa was good for a full year, and if I had followed through with my original plan of returning to Panache at the end of cyclone season – mid May – I would have only utilized half of the visa! I also hadn't been skiing in forever, primarily because the tropics don't offer many options, but also because in the lead up to my departure in 2011, snow sports were expensive extra-curriculars that I could easily do away with. Needless to say I had a lot of reasons to stick around, or a lot of excuses to not go back to Panache to continue sailing west.
It's not that I didn't want to go sailing again. I definitely did. Time had worked its magic, and all the daily annoyances of cruising had transformed into cute stories. It's like only remembering the good things about a past relationship. Despite deluding myself, I understood what a logistical nightmare getting back to Panache would be, let alone getting her ready to sail again. People would ask what my plan was, and I had a nice canned response about when and where I would go, acknowledging some level of boat work to be performed prior, but I didn't go into much more detail. It was too easy to steer the conversation back to the past rather than the future. After all, my immediate future was in New Zealand, far from the 80% humidity and major neglect that was crippling any future I would have with Panache.
My ski job was short lived for many reasons. Firstly, I wasn't as into the job as I thought I would be. I worked in the transport department and got to drive a sweet Toyota Land Cruiser (fitting) that could seat 12 people. Bouncing up the access road while sandwiched in with the rest of the passengers, you couldn't help but feel like you were going to war or something. Secondly, the employee season's pass I received didn't receive enough use. Due to a small department, I was working six days a week, and on day seven I sometimes would rather do nothing than go back to my place of work. Thirdly, I smashed my knee trying to be a badass in the terrain park. I'm not, and never will be, a badass in any terrain park. Fourthly, I had an opportunity to go back to Seattle, my hometown, for several weddings. This was obviously an offer I could not refuse, and my boss at Mt Hutt understood completely. You would have to be an idiot not to accept a free ticket home. To make sure I would continue my trip west with Panache, I made sure my ticket was round trip. At the time of purchase, I thought I would continue working at Mt Hutt upon my return, but ultimately it made more sense to just head back to Panache.
I hadn't been home to Seattle since October 2011, and contact with most all of my hometown friends was non-existent with the exception of a Facebook "like." I don't resent anyone for the lack of contact – that door obviously swings both ways – it just makes homecoming a bit strange. I don't think many people really get what I am doing out here, and I'm not sure how many people actually care. I'm not bitter about not getting more attention – everyone has a life to live – it is just strange to counter stories of grad school and marriages with those of shipwreck and snorkeling. I guess I just realized how little in common I actually have with some of my old friends. I had to fight the feeling that I wasn't stacking up to my peers in society's eyes. "So when are you coming home?" "What are you going to do when you are done traveling?" Done Traveling? It was like being told Santa Claus wasn't real! How can my travel days be over? I had stock answers to provide these questions, but the reality is I had no idea what I was going to be doing a month from now. This might sound a bit like an anxiety attack, but giving any answer while smiling seemed to satisfy, and this anxiety was in reality a very secondary feeling. I was overjoyed to see all the friends and family... And Amazon.
I unknowingly abandoned all the lovely conveniences of the United States when I set sail. If you want anything, anytime, you can find it with little effort and pay a minimal cost. Amazon was one of my best new friends. Every day I was buying something new from the online superstore to accompany me on my second siege of the Pacific. But with great conveniences comes great responsibility. Bella Star, my buddy boat from the Americas had finally reached Vava'u, Tonga where Panache was moored. They emailed me.
Hi Zack, I hate to be the bearer of bad news, but Panache is going to need some TLC in order to get under way. I went aboard today... I brought my meter and verified that there is no voltage on the batteries so I wasn't able to start the engine. I also verified that good solar voltage output is getting to the controller. So it looks to me like the batteries are shorted out or shot. There's considerable water damage at the panel, and it looks like most of the breakers will be non functional. There is a spider infestation and most corner surfaces are covered with nests. The bilge needs to be pumped out. The exterior looks okay, no chafe on the mooring lines...
The letter went on. I re-read it landing on every keyword. TLC. No voltage. Engine. Shorted Out. Water damage. Spider infestation. Woof. I was expecting some work when I got back to Panache, but this was a bit more than I had planned for. Shot batteries! A serious re-wiring of most circuits! Spider infestation! What the hell happened!? Time is what happened. A boat is something that needs constant attention and Panache had none for the better part of a year. In a perfect world, I would have paid someone to come on board and check things out periodically, but money being what it was, I didn't have enough – or so I thought at the time. Obviously paying for a monthly check-up was worth it, and the sinking feeling that can only be realizing a huge mistake was tainting my free trip back stateside.
So I was posed with a problem that I didn't completely know how to solve and simultaneously didn't completely understand the complexity of. The exact extent of the damage was unknown, and without paying someone, the whole truth would not be revealed until I boarded Panache myself. I essentially had to solve a problem without knowing what the problem was. Amazon to the rescue! I effortlessly bought a hundred feet of two-strand twelve gauge marine wire that would go a long way to re-wire the essentials for cruising. Panache was already pretty basic, but this fiasco was definitely going to push her systems back a decade.
What did I absolutely need? This is a question I have been asking myself ever since I started cruising. Typically it came in a more broad sense of the question, but it was totally fitting to apply it to Panache finally. I had bought Panache as a complete package, and never really had a say in the set up of the systems. Tony, the previous owner had essentially answered the "What do I absolutely need" question for me. In this unfortunate situation, I had the fortune to re-visit this question and augment Panache's utility. Could this be the bright side of a bad situation?
Panache's current distribution panel was totally shot. This was a problem because it is the terminal that routes power to the necessary areas of the boat – navigation instruments, lights, the bilge pump and, of course, the engine. Getting this in working order was paramount, and the easiest way to do that was to just buy a new panel. I would have replaced the shorted breakers, but they were all military surplus parts, and I had no idea if I could match new ones. I had spares on board but was uncertain if I had enough to get the whole panel functioning. Furthermore, it just seemed right to re-do the panel entirely. West Marine sold a six-breaker panel that would be more than sufficient. Buying two of them would leave me with three fewer circuits to wire, but that would be a nice place to save energy. The energy-hungry fridge was an easy target to do away with. A handful of connectors, and my repair kit was starting to look adequate.
With no true idea as to whether these items would actually alleviate my Panache problems when I returned to Vava'u, I set out about enjoying my hometown. Meeting new people is always fun, and I was introduced to a fair amount during my Seattle stay. I was no stranger to the "So, what do you do?" question, but I ran into it more frequently while milling around the city. In the regular world it's a simple litmus test for compatibility. The answers aren't necessarily important, but the way one answers is. I kinda resent the question because I think its a good way to put yourself in a pigeon hole, but most people don't ask for cruel judgments sake, its just typically an easy question for small talk. However, I was always careful to answer the question just in case it was. To soften the dread of the inevitable question I made a little game of timing how long it usually took to be asked. I usually never ask the question myself but made a conscious choice to completely avoid it. I prefer to ask people what they like to do and what they are passionate about. The answer can sometimes revolve around work, but for most people it doesn't. In the odd moments where I have asked the question my immediate follow up question is "what do you want to do?"Anyways, the look on the question asker's face is always priceless when my response is "Nothing slash sailing through the Pacific Ocean." People seem to accept this answer quite well, but only because surprise is not the most socially acceptable reaction. Gradually the questions start flowing and my story unfolds. I have lots of stories, and I like telling them. The conversations always make me feel proud and a little guilty that I'm talking so much. This moment makes me stammer to reassure the listener that the trip is a huge pain in the ass.
Cruising is essentially the most inconvenient way to do things. Its slow, things break all the time and nothing is straightforward. Add a language barrier, the assumption that you are a millionaire for owning a boat (ahem, yacht), and things can really be shitty sometimes. I watch a smile creep over their face, and I start to smile too, because I really like the challenge. I like testing myself. And I like the freedom. Nothing satisfying is ever easy.
These conversations have led me to some truly unique tests on land. An adventurous spirit can identify another, and my stories have gotten me invited to several hikes in the beautiful Cascade Mountain range of Washington. I have never done alpine climbing, but after my trip home I can now check it off the list. Send me across an ocean, and I have very few instances of discomfort, but send me across a glacier sloping at 45 degrees with gaping crevasses below and I can't help but feel like my circumstance is terribly flawed. I loved it. I haven't been that scared in a long time, but like being able to sail to any old place you want, scaling mountains gives you the brief feeling like anything is possible. This clarity is always short-lived and is the drive for most things labeled too dangerous by the mothers of the world. My mother was not thrilled after seeing some of my pictures of an attempted north ridge summit of Mt Stuart. If it wasn't for rain, my climbing partner and I would have continued to the top. It gave me just enough feel for alpine climbing that I think I have caught the bug. From that moment forward, my stock answer for "What are you going to do when you get back?" is now climb mountains. Sorry mom.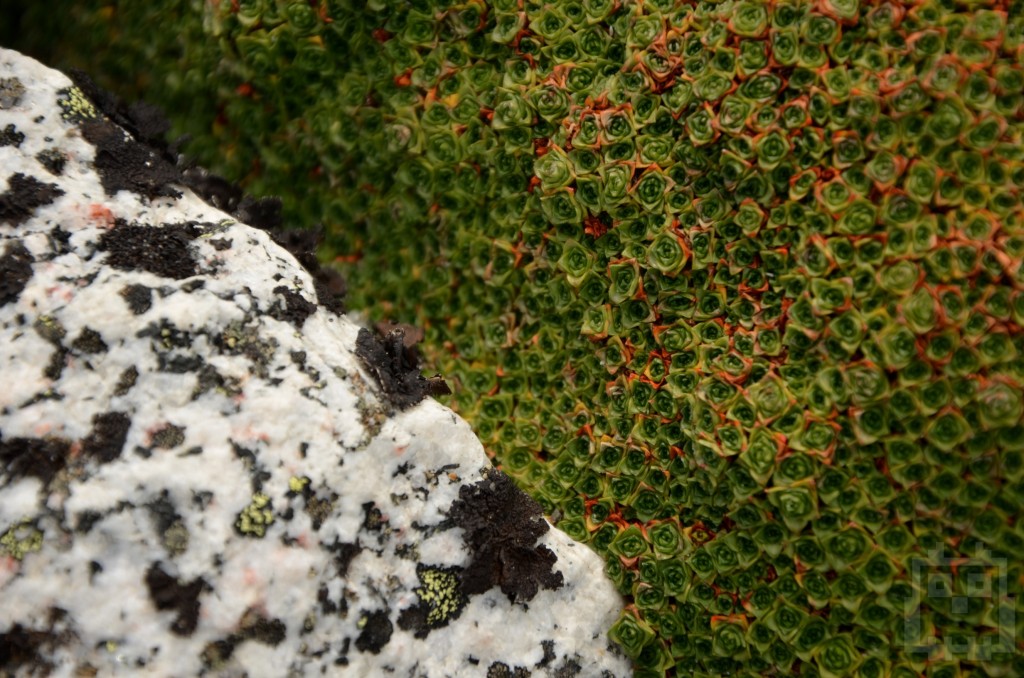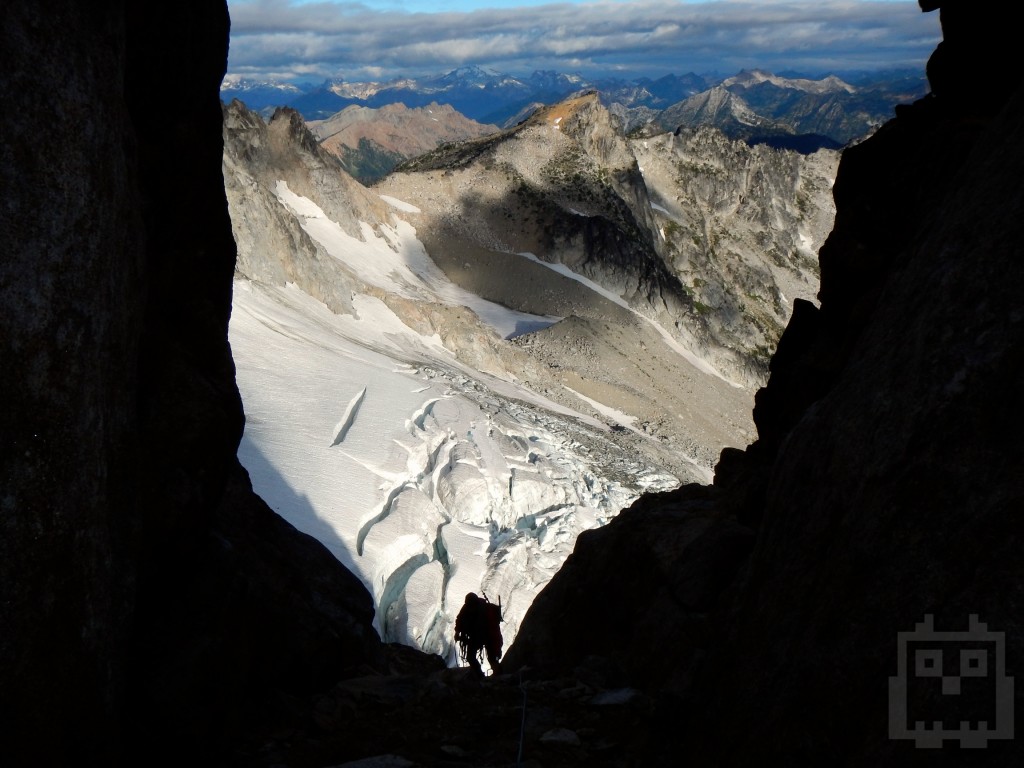 Only half my time in Seattle was dedicated to northwest sports and online shopping. The other half was spent catching up with friends and family. There were entirely way too many people to see, and all those people were way too busy, so my apologies to all the people I failed to catch up with. I was also impossibly busy, and time caught up with me. Even with extending my flight to accommodate another wedding, I still felt like I was only visiting and didn't have enough time. I was never truly home. My big duffle bag remained half packed, nothing I owned had a place of its own and I was essentially sharing my old room at my parents' house with my sister. My transient existence in Seattle lacked personal space, but I was happy to be sharing it with the people I came home to visit.
Packing up was an issue. I was carrying everything I originally was carting around the Pacific then an additional lump of boat kit to get Panache in sailing order. I was a human camel and terrible at carrying my own weight. Sailing has really spoiled me in many ways, and most obvious was my inability to cart around my own stuff rather than letting Panache do all the heavy lifting. So much easier in a boat. It was hot when I arrived at Seattle International Airport and my clothes were already starting to cling to my body with a thin film of sweat. That clean feeling from my morning shower was already disappearing, and I hadn't even taken my bags out of the car. Even with help from my dad, thinking about the burden of carrying them with me made me sweat even more. Maybe dad could be my bag handler all the way to Tonga? I thought about how much my dad would charge for such a job, but this pointless train of through was broken because I had to say goodbye.
Goodbyes are not something I'm good at. I always appear apathetic about leaving, but the truth is that I never truly realize I am leaving until I'm already gone. This must be frustrating for my departure party. My dad started crying when I hugged him, my mom slipped me a twenty dollar bill when I hugged her and Kayla, my good friend from Whitman College, told me I should look into cloning myself. One last wave goodbye and I entered the air conditioned airport.
What happened next was the most irksome 26 hours of travel reality could dish out. No serious challenges, just a mind-numbingly long time to be traveling. Seattle to Los Angeles I sat next to a massively fat Mexican dude who ate three tapas meals that inspired me to buy pita chips. My overweight latino neighbor was eyeballing my snack the whole time. Los Angeles to Sydney was the long haul. Watched several movies and noted when I passed over Tonga. In a matter of hours I had covered the distance it took years for me to cover with Panache. Sydney to Christchurch was a cinch after the last flight. All legs of the trip had layovers, and I slowly accumulated a body odor that could be bottled. True Travelers wear Airport Stank, the new scent from Calvin Klein. The advert would probably feature some sweaty five o'clock shadow everyman. Maybe with a flight attendant (man or woman) wrapped around his arm. My ripeness could have been worse if I'd had to carry around my baby hippo-sized duffle bag. Even so, carrying my twenty-pound backpack, an awkwardly long box containing everything from a VHF antenna to sailcloth, and a large duty-free bag of whiskey wasn't easy. Upon arriving in Christchurch I was running on fumes and ready to tackle the last leg of the first portion of the trip back to Panache; a four-hour bus ride to Blenheim. For this last push I did have the pleasure of manhandling my hippo duffle bag.
My layover in Blenheim was specifically crafted for a reunion with friends and to gather any last minute kit for Panache. Like traveling back in time, I had traveled back through New Zealand the exact reverse way I had traveled through it, and I was now at the very first place I visited, Windsong Orchards in Renwick. For three months in early summer I remained there, picking blueberries four hours a day and working a farmers market on the weekend. I didn't get paid with NZ dollars, but I had great accommodations, delicious food and all the real milk I could drink. The experience and friends I made were more valuable than any hourly rate. And the dairy of NZ is mind-blowing on any level, but especially when you come from an all powdered milk landscape that is the South Pacific. Jennie and Bob who run the place were shocked at how much milk I drank, and they considered getting a cow to make my dairy consumption financially reasonable.
I had ended up in Renwick of all places because the owners' daughter was on a similar sailing trip down the Americas, and we crossed paths in El Salvador. She told me, "If you ever end up in New Zealand, look up my parents." After my affair with the reef in Niue, I started setting my sights on New Zealand and promptly got in contact with Windsong. Being a farm, my visit back wasn't immune to work. I helped Bob reinforce the kiwi fruit trellis just outside their house. It feels good to be useful and this kind of work is always a good time to catch up. Politics, Panache plan of action, the Americas Cup and even a story of recent shipwreck in the Pacific. A massive catamaran named Blue Marble had managed to find itself bashed up against the same reef I found myself on last season in Niue. While I'm sure the circumstances were similar on how we ended up on the reef, the outcome couldn't be more different. I had repaired myself and brought Panache to Tonga, and Blue Marble was so damaged it was sold in a fire sale and the crew dispersed from Niue on other boats. It was insured, but the season was over for the vessel.
With that story of woe in my back pocket, I said goodbye to my Kiwi family and set out on the next leg of my trek back to Panache; getting to the capital island of Tonga, Tongatapu. I had a small hitchhike between Renwick and the Nelson Airport. I had made a cardboard sign that said:
NELSON
NEED TO CATCH
FLIGHT @ 1PM
Bob joked that I didn't have enough information on the sign, and I was almost convinced when I found a similar cardboard sign discarded in the neighboring lawn. Holding a cardboard sign made me feel homeless, which is ironic considering I am very much homeless. Forty-five minutes later I had my ride. He was a Kiwi who had spent most of his working life in Australia and was now back in the motherland looking for a place to call home. He was looking in Nelson and ended up driving me right up to the front door of the airport. He made no comment on how much stuff I was carting around, but I must have looked funny hobbling to the door.
Inside I ran into several problems. First off, my yellow hippo bag was overweight. Shocker. My backpack was overweight, and my additional "bag," the oblong box thing, was going to set me back $120 NZD to be checked. I had managed to carry the oblong box all the way from Seattle to Nelson, but Air New Zealand refused to let me hang onto it. I used every excuse, but it was clear they wouldn't budge. Fair enough, it now contained a spear gun I picked up in Blenheim so I guess it's probably best to check it. Head down, I handed the nice man at check-in my credit card. After some snappy keystrokes we both looked up and he asked me, "So when do you plan to return from Tonga?" This was a loaded question. Since I had no proof that Panache was in Tonga, I had to have some proof that I was planning on leaving the country. My boat registration was not enough proof, and I once again I lowered my head and handed him my credit card to buy a one-way refundable return ticket. I know it wasn't this guy's policy, but it was hard not to go ballistic.
Despite all the hassle (or my ineptitude) with flying, Air New Zealand does a fantastic job at providing top notch flight entertainment and service. After flying with Air NZ, stepping on an American-based airline was like stepping back in time. The planes are just a bit older, as are the flight attendants, things have that plane smell and free drinks are a pipe dream. Not on Air NZ. I think I have fallen in love only a handful of times, and two of those times were with the hot flight attendants who happily offered me complimentary beers. I'm a simple creature. Once in Tongatapu, I had a 24-hour layover before flying to Vava'u. I stayed at a guest house outside of the capital and spent the night exchanging stories with a Scottish couple over some beers while watching a massive stick insect get incapacitated by a herd of micro ants. It was a good show. They flew out to Vava'u the next day, and I spent my time searching for deep-cycle batteries. That night I went out with another couple to a "Traditional Tongan Feast." It was a super touristy thing to do, but it was a really good time. Amazing food and a sweet fire dance. That night when I got back to the guest house, I lay in bed cataloguing all the things I needed to do once I arrived. The list was long.
The morning was overcast, and the airport was busy. Extra cash to check my extra bag, and I was walking across the tarmac to board my flight to Vava'u. I remember the NZ check-in guy in Nelson making some crack about the Real Tongan Air planes and didn't really get it until I was standing right in front of one. While it looked old and had the exact aesthetic you would expect from a South Pacific airlines, it was obviously not a Boeing creation. Airbus? Nah. It was some kind of Chinese plane. The shit-talking was probably political to some degree. I wasn't worried, if Panache could get me to Tonga, this Chinese plane should get me to Vava'u.
The flight was fast. Vava'u was overcast and rainy. Not very tropical looking, but it was surely helping my body acclimate to the temperature change. Winding my way to Neiafu Bay via taxi, I could see Panache in the distance. Holy shit, I'm finally here. Bella Star was sitting at the Aquarium Cafe with a smile waiting to have a reunion coffee with me. This reunion was so dramatically different than my reunion with my land-based friends. They understood my drive and my situation to a T. They were, after all, doing the same trip, facing the same problems and repairing some of the same systems. The hugs lasted a bit longer. Aaron, who always joked that I needed to get a haircut and a job, was now the one who needed the haircut, and Nicole was now tanner than me (a hard thing to accomplish for a ginger). Coffee at the cafe, then breakfast on Bella Star and it was time to go aboard Panache. Man, I was not ready for this.
Bella Star had prepared a nice return package of supplies to jumpstart the battle to jumpstart Panache. Complete with spider spray, rubber gloves, Jet (Costa Rican energy drink we enjoyed way too much while cruising together there), and snickerdoodles for sustenance. I was geared up to make that first hardest step. I could have avoided this moment a bit longer. As I stepped off Bella Star's dinghy and onto Panache I was finally reunited. Standing on deck a little unsure of where to start, I watched Aaron zoom off back to his boat. Lines dyed with mold scattered the cockpit. Moving them to one side of the boat revealed a similarly colored moldy green tattoo on the fiberglass. Not a priority right now.
I opened up Panache's hatch and an invisible cloud of stale air washed over my face and into my nostrils. I stood back and squinted my eyes. A second go and my eyes were scanning the scene from outside the companionway. It looked like someone had left in a hurry. The floor was sticky and all the floorboards were swollen. The base board to the stuffing box (the gland that the prop shaft goes through so water doesn't flood into the boat) was so misshapen that it needed to be discarded, and the floorboard for the bilge was in a similar condition but just barely fit. As I walked down to the front of Panache, peeling my feet off the ground as I went, I became more and more discouraged with what I saw. Spiders had in fact taken over the boat. Upon closer inspection I couldn't actually find any living spider. The windows were covered in hundreds of little curled up eight-legged skeletons, and most surfaces had at least one web cluster defining little communities, but there were no spiders. I was witness to a mere shadow of a once prosperous spider metropolis that outgrew its once plentiful resources. Like the fall of Rome, spider land Panache was history. My face was slumped in an unhappy grimace.
Face mask on, eye protection protecting, and I let the spider spray rip into every cranny of Panache. Just because I couldn't find spiders doesn't mean they don't exist. Like with any fallen society, there will always be survivors, and they will inevitably be stronger than their ancestors. Holy hell, Panache created super spiders! Have you ever watched the movie Arachnophobia? Well, this experience made me regret watching that movie. My return to Panache had set in motion a very aggressive timeline to get Panache back to Australia. Back because Panache had made this trip in the early 80s. I was returning her. Breathing life back into her. My reason for heading for Australia was as romantic as any prospective cruiser's dream of sailing. Even knowing the romance was a complete fallacy I still couldn't help but want to re-trace Panache's original steps. I had to have the boat ready to get to Fiji by October 15th when I would meet crew. My crew then has a month or so of time to sail before heading back to the States. Mulling over my timeline, de-spidering sped up. First things first.