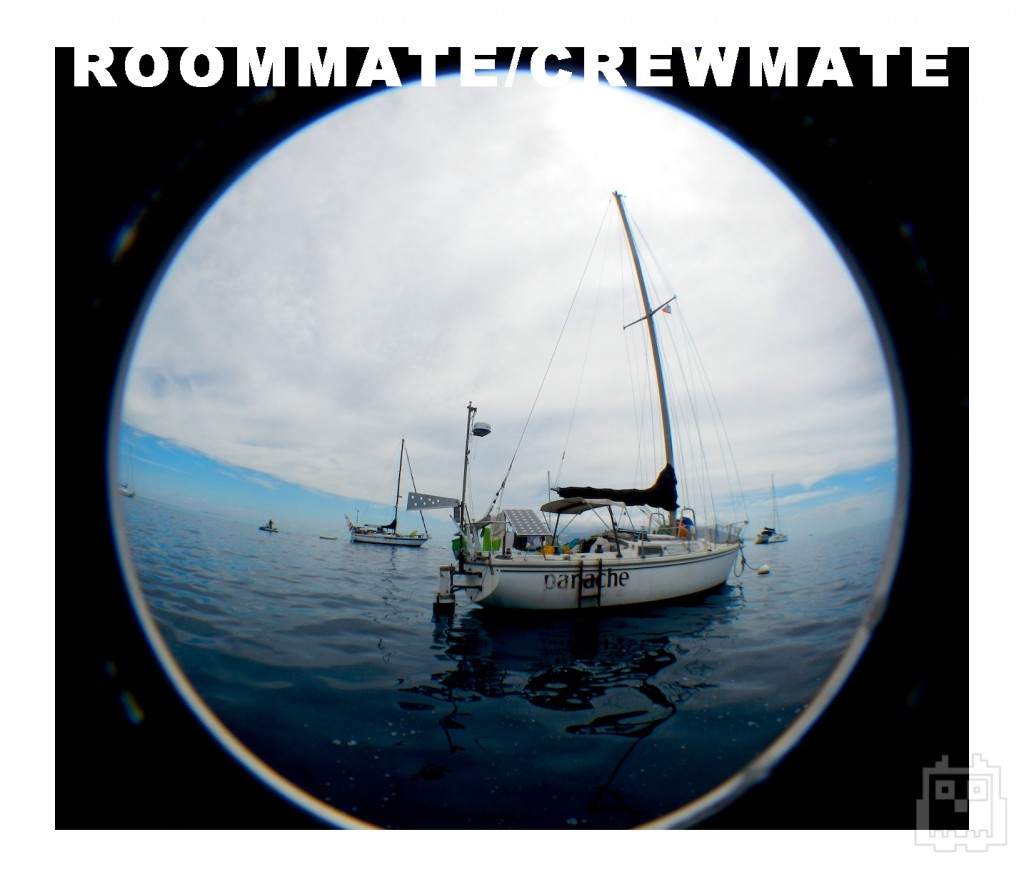 Sailing solo for 8 months was an amazing experience that sharpened my tenacity, deepened my personal accountability, and developed my self-reliance. It also gave me some of the most devastatingly lonely moments. On day 12 of my crossing from the Galapagos to the Marquesas, I reached my halfway point in the passage and also tripped 5000 miles since I started sailing last October. Amidst the excitement of reaching such a milestone I was struck with a bolt of depression – I had nobody to celebrate such a moment with. Two years ago, my Pacific daydreams were shared with Karen by my side. At this point, I miss the idea of sharing the moment more than sharing it specifically with Karen, but my melancholy mood exemplifies the letdown in expectations. Those solitary moments are burned into my being, and they have clarified how important human contact is for a healthy, rounded passage and for life. That day I vowed to find crew – a task my mother has been begging me to do for the past I-don't-know-how-many months. I don't regret my time sailing solo, I just am ready to share my experiences with someone other than my self-steering system, Jesus.
I have always been very lucky in finding crew. Before the 2011 Baja Ha Ha, I picked up two eager crew members my age in only a matter of weeks. After Karen bailed on the trip, I was desperate for crew and would have accepted a chimpanzee as a first mate. I got lucky to find Eric, Nate and later on in Cabo, Mer. Like any group stuck on a 30-foot boat, we had our differences; but this never eclipsed the fun we had. Eric joined me on Panache as I made her maiden voyage out of Ventura Harbor. We were as green as it gets, full of theoretical knowledge and ready to test it. I had an idea of cruising, but had no expectations as to the rhythm of sailing Panache. I think not knowing made it easier to work with my crew because we were discovering that rhythm together. Today, I have the rhythm down to a science, and it works extremely well for a solo sailor. Before departing the Marquesas, I posted an open invitation to Facebook for crew: "Looking for crew, meet me in Tahiti." Sure enough, my friend referred her friend, and before long, Vladimir had a ticket to Tahiti. I actually went to high school with Vladimir, but we were never in the same circles. As his arrival date crept closer, I became aware that bringing a new person aboard would disrupt a perfectly functional system that had worked for thousands of miles. It was my job now to make that rhythm work for two and to teach it to Vladimir. I was out of practice in the vocal conversation department, and as previous crew can attest, I was never great at describing things. Hey Eric, will you pull that jigger thingy? No, no ... The green one. Yeah, but pull it the other way. Great, now tie it around that nubby thing. Thanks. Sailing solo for all these months only strengthened my inability to communicate. If only Pictionary were an acceptable form of communication …
Teaching concerns aside, the bulk of my anxiety came from wishing for a positive reception. I have so much anxiety about acceptance in general, I am surprised I ever dare open my mouth. My blog has helped alleviate some of this anxiety by allowing me to put myself out there without fearing how my words will be received. However, having crew is much more intimate, and it regurgitated this anxiety. It chewed my mind apart, forcing me to confront the issue. You might think I am taking this a little too seriously, and you would be right. But realize that I even have trouble watching a favorite movie with someone who hasn't seen it before. I am so worried they won't like it. I have to constantly look over at them to make sure they are not asleep. Ultimately, it stresses me out. Inviting crew aboard Panache isn't just for a peek at the cruising lifestyle; I'm inviting them into my life.
You can't get much more intimate than living on a 30' sailboat with another person. If you want to go anywhere on the boat, the other person has to get out of the way in order for you to pass. The bathroom (or head) has no door for privacy, and the term "privacy" really has no right to be used on a 30' boat. It is the ultimate test of one's ability to stand the other person. Vladimir might accept me and Panache, but will he be able to withstand our unwavering presence as crew? A tall order.
From what I gather about Vladimir, or as my dad dubbed him "The Cosmonaut Cruiser," is that he is very well-traveled and flexible. A priceless characteristic. I feel like I lucked out once again with the crew gods and should do my best to accommodate Vladimir, and thus honor the crew gods.
Looking in the mirror, it doesn't take long to spot an easy personal hygiene tweak I could make to welcome my new passenger – I could shave the monstrous mountain-man beard that has taken over my face. Coupled with my long hair, I look like a lion. Add sunglasses, and I look like a lion wearing sunglasses. It's ridiculous. The other day a drunk South African thought I was Tom Hank's son from the movie Cast Away, and last night while dinghying out to Panache, someone yelled "Hey Jesus!" They could have been talking to my self-steering system, but I am pretty sure it was directed at me. My beard saves flavors from any and all beverages I drink, and it billows in the wind at speeds above 7 knots. Yes, I look fucking grizzly and tuff and definitely get respect that I am not normally used to, but it's a pain to sit by and let this thing grow. I am a human Chia Pet without the luxury of being able to ignore myself. I made all sorts of promises about cutting my beard for personal reasons, but the arrival of Vladimir might just be the push I need to make a beard-free dream a reality. In comes Daniel from Red Sky Night: "Don't be soft. Don't cut your beard. He won't give a shit if you have one or not!" Rum + yelling is a very persuasive mix. This is coming from someone who recently cut his beard.
Ok, I will table the beard thing, but arriving to a clean boat would certainly be a nice gesture. As I surveyed Panache's cabin, I realized I could probably use some help with the mess. Cue animated light bulb above my head. The whole point of crew is to share experiences, including cleaning Panache. If I really wanted to treat my new crew to the full experience, I needed to keep Panache filthy until my crew arrived. Vladimir wasn't coming down here to be babied. I decided to cancel the welcome parade for him and just present him with a true reality. I explained to him over the phone the circumstance, but words can never do any experience justice, and Vladimir would just have to see the way I lived first hand.
It was the eve of Vladimir's arrival, and I had done zero preparation. While I sat in the cabin drinking my ceremonial morning hot chocolate, I realized that doing anything other than doing nothing was to sugar coat or disgrace the very lifestyle I lived. I sport a homeless man beard, a proper cruising boat is dirty, and things break often. I manicure, clean, and fix as they become necessary. Take it or leave it; that's who Panache and I are while sailing.
When he finally arrived, we spent most of the evening catching up on the years between high school and now. Vladimir had just been dropped into paradise. The boat and my beard seemed to be non-issues. The next day when we started doing some repairs on Panache, Vladimir literally dove head first into the engine compartment to help out. We were replacing the salt water pump, but it was located in the most inaccessible spot. Truly perverse. It was a job I could never do by myself and solidified how important crew is. I tried to tackle the job prior to his arrival, but got so frustrated with my short T-Rex arms that I abandoned the task. With Vladimir by my side, we experienced the same frustration, but the ridiculously difficult task became comical with company. With salt water pumping freely, I realized that all my anxiety was pointless and that Vladimir was going to be a perfect fit for Panache.