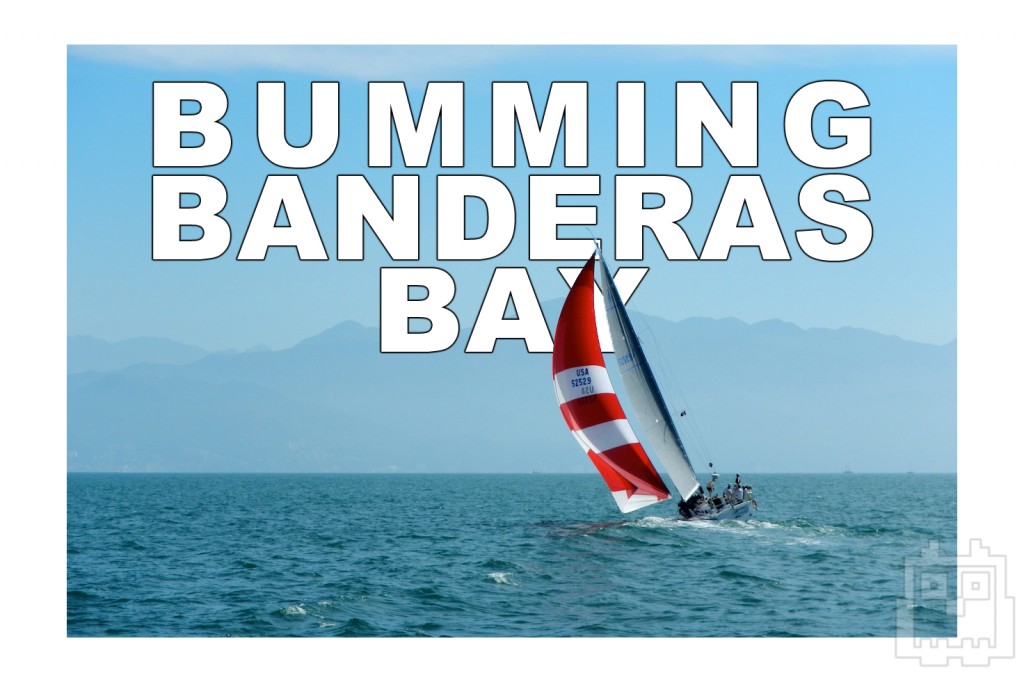 Banderas Bay, La Cruz Huanacaxtle, was my home for a little over a month. Well, technically Panache was still my home, but La Cruz was my home port for a month. Panache stayed anchored out in the moderate swell, and my days were spent slowly getting things ready for the continued trip south, enjoying the best happy hour in Mexico (TEN PESO DRAFT BEER!?!) and generally unwinding. If there ever were a time to relax, it was in La Cruz. No plans, taking on my shopping list of projects at a glacial pace and generally trying to fit into my foreign surroundings. After a month in La Cruz my Spanish was still terrible (every Mexican wants to practice English!), but I did make many new friends and had a great time. The positive gravity of La Cruz made leaving a truly difficult act.
When James and I first arrived, we were relieved to finally be able to sit down for the sheer sake of sitting down. Sailing is fun, but after a long passage, anyone would be pleased with solid ground and more than 30 feet of boat to move around in. Me being in Mexico gave my parents a perfect excuse to come down on holiday. They were waiting for us in Sayulita, a smallish surfing town 20 minutes north from La Cruz. Anchoring Panache securely in preparation for a week-long trip to Sayulita left me with a pit of guilt in my stomach, like I was leaving my dog home alone indefinitely. Thank God Panache doesn't whine. I let out more than enough chain, moved away from other boats and called it good. We hitched a ride into shore with Brian and Steven from Go For Broke, a huge steel monster of a boat. They know how to have a good time and turned out to be heading up to Sayulita themselves.
The four of us snaked through town to the bus stop. That bus led to another bus stop a short run across eight lanes of freeway traffic. Welcome to Mexico. People call the buses "Mexican Roller Coasters," and for good reason. The freeway, or any road for that matter, is not a road but a racetrack. The only difference between the Mexican interstate and NASCAR is that safety is not necessarily a factor in Mexico. This is not to say that the drivers are bad – I couldn't maneuver the elephant-sized bus through traffic the way the driver was! It's just that the buses themselves make a spectrum of noises that could only be the vehicle deconstructing itself slowly. So, hold on tight.
Sayulita was great. My parents were great. New Year's was great. Sayulita wasn't just an American tourist destination, if anything it was a Mexican tourist destination. Americans were outnumbered, which made me feel like I was in the right spot. This is where the locals go. One memorable night, James and I ran into a Mariachi band. Starring in amazement, a very drunk group of young Mexicans stumbled over to us. Between our bad Spanish and their bad English, we exchanged the usual who/what/when/where/whys while passing the largest bottle of liquor back and forth. First sip my throat tightened and shuttered. Did I just drink paint thinner? "What is this?" I asked with a forced smile. With crossed eyes, our new friend responded "MezzzzzzCAL!" Mescal... hmmm, it sounds illegal. Based on the taste alone it should be illegal. If you've never had the pleasure of trying MezzzzzzCAL, just think of cheap tequila. Cheap as in, they pay you to drink it. The mescal supercharged the night, so I can't hate the drink that much. But this was the scene; everyone was from everywhere, and everyone was happily a tourist looking for a good time. I never got the "I'm a local and better than you" vibe that unfortunately poisons many of the great tourist destinations.
Being New Year's, live music was a nightly occurrence. Being New Year's, a tent city blossomed along the beach full of young people my age. And having a surf beach right at my toe-tips made New Year's that much better. I spent New Year's night with a German girl I met in La Paz, her friend from Austria, a Canadian and a crew of Australians. Thank God everyone spoke English. I ended up losing the group at one point during the night, but the other great part about Sayulita is its relatively manageable size. I ended up running into the group several hours later by accident. If you every take a trip to Aaron Maraschky and Ben Doolittle doing boat work. Vallarta, make sure you take a day trip up to Sayulita.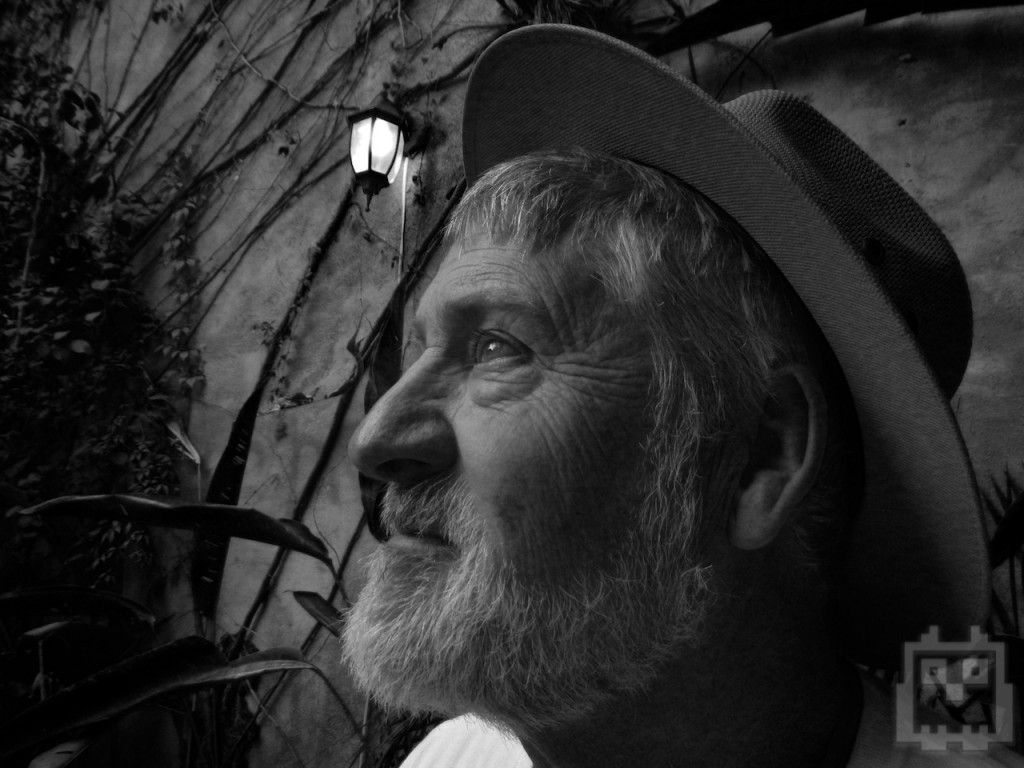 Back in Banderas Bay, the Vallarta Cup Race Series, was ramping up for the rest of the month. Every Saturday was a new race. I wasn't going to SailPanache, but Richard, the editor of Latitude 38, needed crew for his boat, Profligate, and welcomed me aboard as crew for the whole race series. The first race I was all thumbs; sailing a catamaran (a huge fucking catamaran at that), is much different than a monohull. Let's go through the top 5 differences between monohulls and catamarans:
1. YOU HAVE NO BLEEPING BACKSTAY! In the middle of the first race I thought Profligate was experiencing some huge rigging failure. Alas.
2. Traveling at 8 knots is nothing. Traveling at 13 knots isn't "fast," its "sweet." You have to treat speed nonchalantly. The boat's fast, you know it's fast, so don't get too excited about it. When we hit 10 knots my mind exploded like someone was telling me the earth was the center of the universe. Panache is lucky to go 7 knots, and that takes a lot of work.
3. Sailing up wind sucks ass. No huge keel means catamarans can't point as high. Profligate has two dagger boards, but mono-hauls still dominate the upwind battle.
4. The opportunity for a puny name increases. If I had a dollar for every catamaran that has the word cat in it, I would have almost $10.
5. They are just down right awesome and represent everything new school about sailing. They are termed the dark-side because once you go cat, you never go back.
I want a catamaran, but I feel like I would somehow be tarnishing the great traditions of sailing. It just makes everything so easy. Sailing is about fighting difficulties. I don't just want to get to where I am going, I want the trip to take twice as long and use bad language twice as much.
Profligate is a fast, huge boat, with 63 feet of waterline. A sailing machine that was spartan, lacking the frou-frou luxuries you think of when you think of a yacht. This boat was made for passages. A functional beast that can rip a new one for most any monohull heading downwind. Zipping around on this boat was a real pleasure and to my surprise relatively hands free. With three people, this boat could be efficiently raced. Due to its sheer size, Profligate crushed the competition in the multi-hull class. The last race of the series was spent catering to the film crew of a new show called Paradise Hunter. The group was in Banderas Bay filming the pilot episode. When the show gets picked up by a network, be sure to look for me. I'm going to milk that 15 minutes of fame forever. For-ev-er.
You cannot think about Banderas Bay without thinking about the nightlife. Puerto Vallarta has a population of over a quarter of a million people, and the beautiful bay makes an ideal tourist destination. All those people need to do something on the weekends. My one big night out in PV was completely spur of the moment. I was not planning on going out, but I am a pushover and am easily convinced – it's not like I had to go to work the next day or anything. Starting the night at a friend's restaurant, the free-flowing drinks lubricated our decision to make the pilgrimage. We crammed seven people into a Chevy Cavalier and bolted to PV. The strip of PV lined with clubs was bustling with tourists from all over the world. The sound of club music, even on the sidewalk, made talking out the game plan difficult. We all decided on a club that offered an all-inclusive package. Entry, drinks, music, the works. When ordering our "free" drink at the bar, the bartender asked for 300 pesos. Wait. Really? All inclusive must mean something different in Mexico. After arguing with the owner for several minutes we were no longer obligated to purchase the massive Big Gulp sized 40+ ounce mixed drinks the bartender concocted. They ended up in the trash, and we ended up back on the sidewalk soured from the experience.
With almost all our money gone, wasted on a club we spent 20 minutes in, we opted to go to a free bar with live music. A quick trip to the ATM and I was able to buy my first drink. We rocked out until 4 in the morning and then ended up taking a cab back to La Cruz. I spent more money that night than I did the past month. I don't regret it, but if someone tried to sell me that experience, I wouldn't buy it. I am glad I did it, but I wouldn't do it again.
Geographically, Banderas Bay is roughly 20 miles wide, a huge bay with thick jungle surrounding the less populated areas. The movie Predator was actually filmed in the area. This was important. Predator was the first rated R movie I watched as a child and holds a special place in my heart. Aaron from Bella Star feels the same way about the movie, and we were very adamant about finding a real life Predator. I'm not sure Nicole, Aaron's wife, truly understood our fascination. It must be a guy thing. Our group hired a guide to take everyone on a coastal hike around the southern edge of Banderas Bay. When you are sailing, you are exerting very little energy, so coming from sitting around all day while on passage, to hiking up and down hills was a bit of a shock for my body. I wasn't out of shape, I was in-between shapes. I sweat a lot in Mexico in general, but add aerobic excursus to that equation and my body turns into a waterfall. This hike turned me into a very disgusting creature. Along the hike April, our guide, would point out little tidbits of information about the flower and fauna that nature nerds like myself eat up. The hike was a great way to escape the gravity of the marina. But all my projects pulled me back to the boat. Fun time was over, it was time to pay more attention to Panache.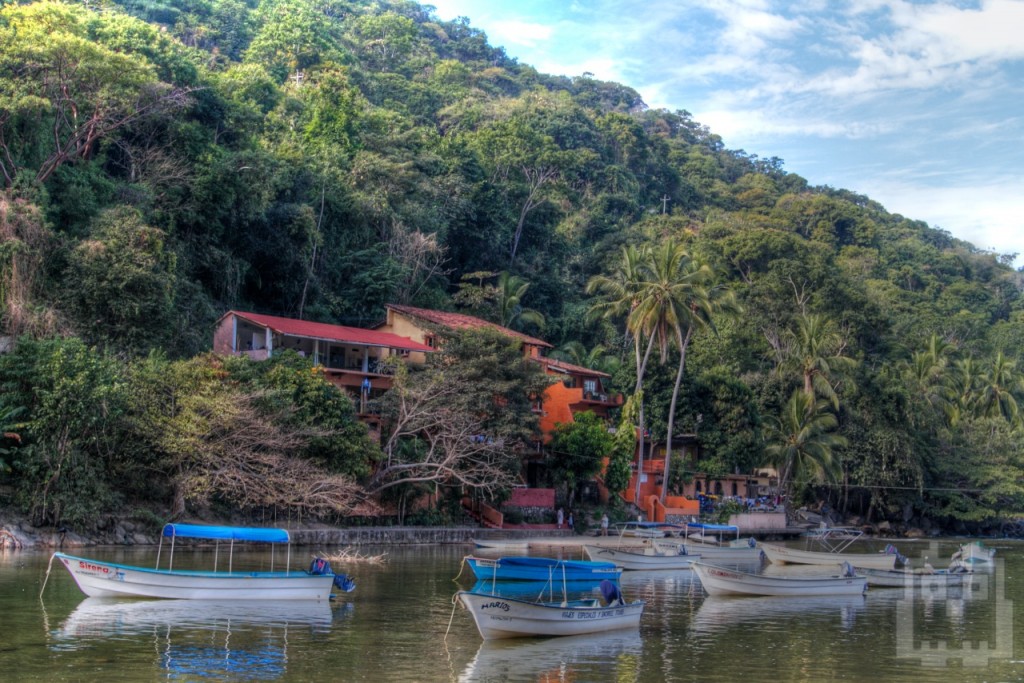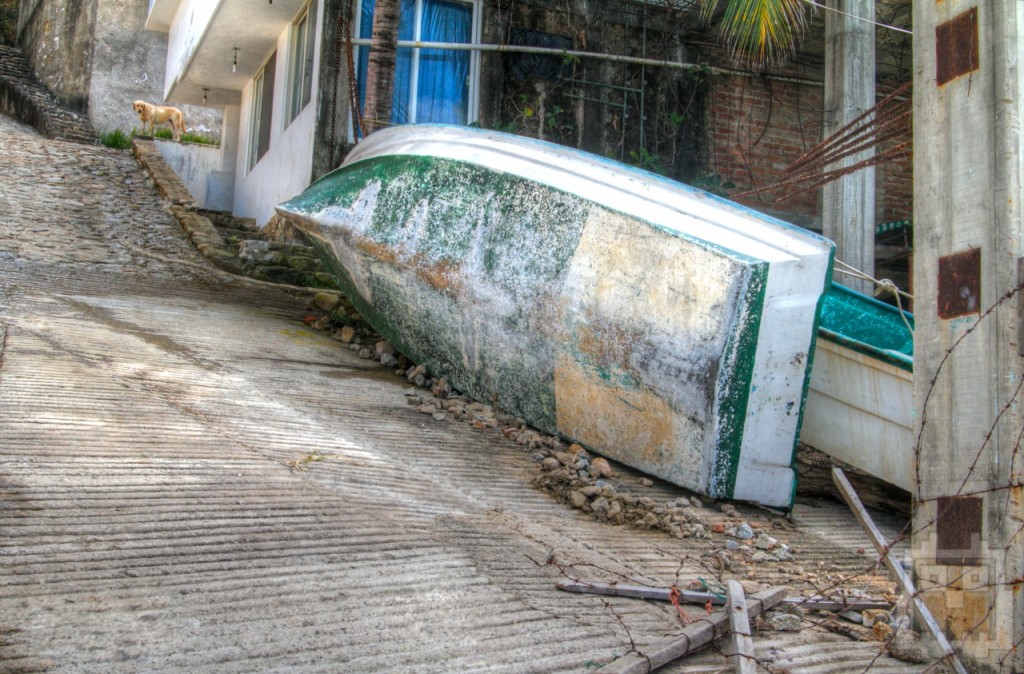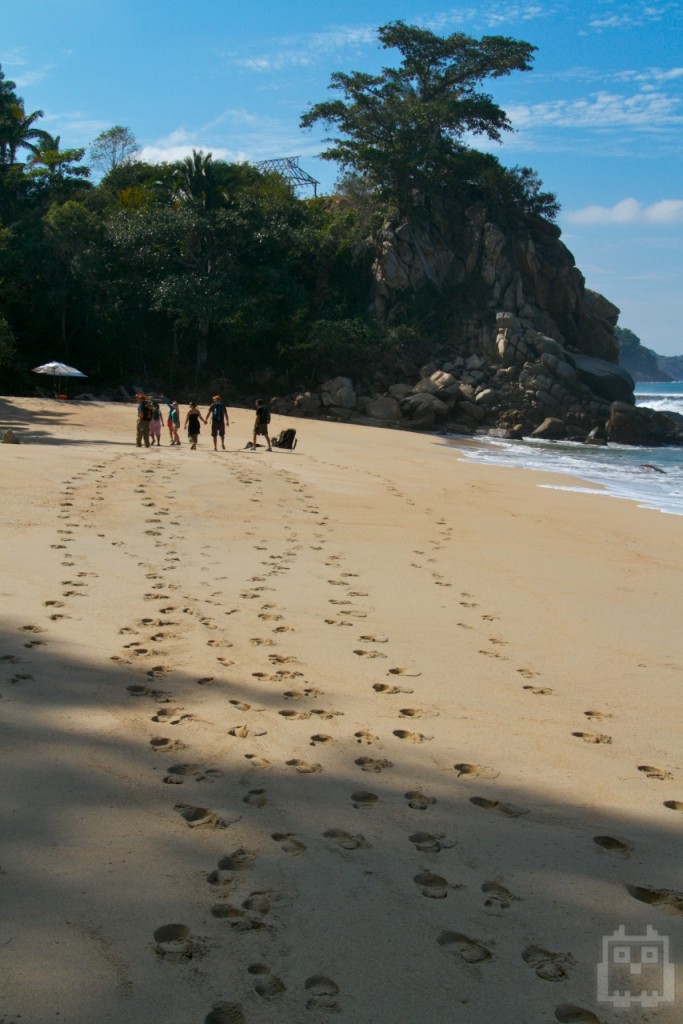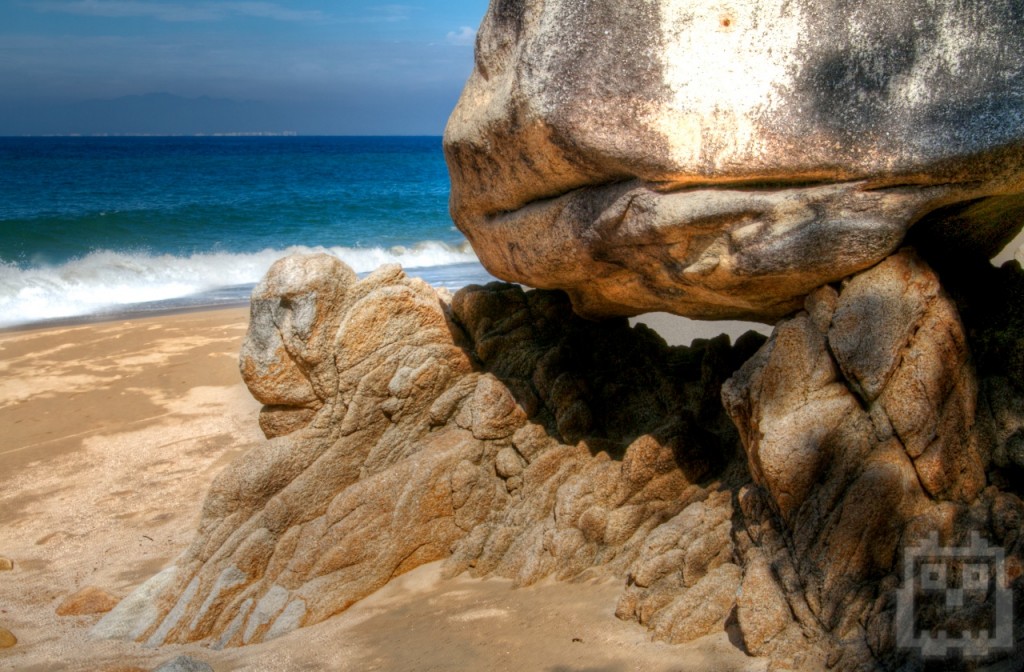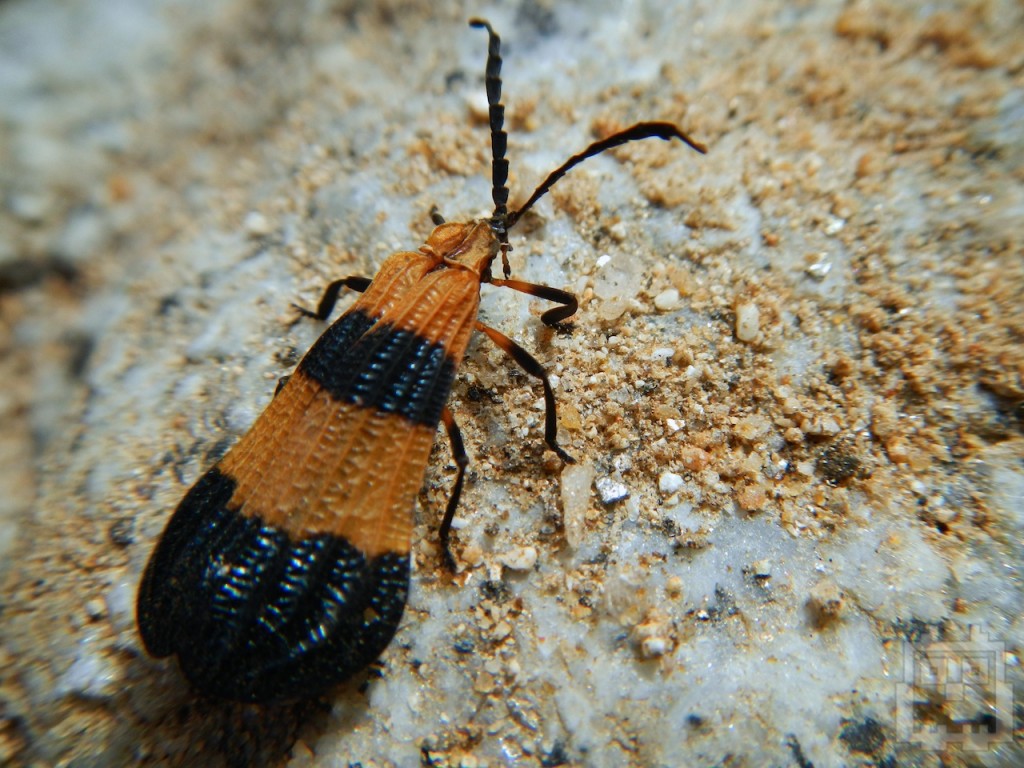 The work side of my time in La Cruz was ultimately packed into the last week of being there. Just like writing a paper in college, I waited until the last minute. Waiting until the last minute is never a good idea, but surprisingly everything I needed to get done, got done. Hmmmm... Just like in college. Replacing some standing rigging, re-welding the gooseneck bracket for the boom, reattaching the boomvang to the mast and reinforcing the mainsail all were completed. I have to thank the cruisers community in La Cruz for helping me out on these projects, Sea-Tek Marine for the rigging help and PV Sailing for helping me reinforce my mainsail. Things break. Unfortunately, things will always break, but fixing them is something of a fun puzzle. Not just mechanically, but socially. It took me a whole day to find the right bolts for reattaching the boomvang to the mast. Lots of conversations and lots of bus rides later, I had the bolts. Boat repairs in other countries are like little missions. I didn't exactly have a theme song like Tom Cruise does in Mission Impossible, but I had lots of fun executing them.
The mainsail work with PV Sailing was the most satisfying project. I don't have money to spend on anything really. My cruising fund is devoted entirely to cruising costs (food, fuel, fun), and repairs are essentially ignored in my budget. One night at Ana Bananas, a cruisers bar/restaurant/performance-hall, I was chatting with this guy Mike about sailing. I told Mike about my boat projects, one of the big reasons I was sticking around La Cruz, and he turned out to be the owner of PV Sailing! How awesome is that! Mike suggested I trade time in his sail loft for the mainsail repair I needed. I couldn't say yes fast enough. Every day I would spend a couple of hours in the loft doing simple tasks, de-stitching sails that were going to be repaired and such. I asked lots of questions and looked over Mike's shoulder during every step of my sails repair. I can't thank Mike enough. We ended up making the main loose-footed, a somewhat terrifying experience. Taking scissors to my mainsail increased my heart rate big time.
The rigging work was the most tense. I started taking down standing rigging in the anchorage. Not the best idea. The swell at sea level can make someone nauseous, but once you are 30 feet above the water, that small arch at sea level is expanded to 10 feet of swing right to left. Ok, so I was swinging around, what's the big deal? Well, if you are male and have ever worn a climbing harness, you have a pretty good idea where I am going with this. I have never had a vasectomy, but after re-rigging Panache I believe I experienced the equivalent. I'm not sure how successful the back-alley procedure went seeing that the climbing harness isn't an accredited doctor. Having mechanical fittings on my upper shrouds made re-rigging a breeze once the steel wire was cut thanks to Sea-Tek Marine. I now have serious confidence in my standing rigging and should be good for another 10 years.  
With the boat ready to go, my new crew member arrived, ready to give a helping hand down the rest of the Mexican Pacific coast. I was a little apprehensive about this particular crew member. I just wasn't sure if we would get along. The stresses of sailing can make even the best of friends have issues. For as long as I could remember my father was the one telling me what to do, and now that he was crew on Panache, I would be fulfilling that role for him. My patience, and his, would be tested. I greeted him with a hug and a smile and prepared for the fireworks as we both said goodbye to La Cruz.